This is not to say that cases, when Internet Explorer is not working, are quite common.
However, many users experience this problem. And most importantly, many of them simply do not know how to deal with this error.
Failures in IE can occur for various reasons. Often this happens due to failures in the program itself, and sometimes indirect circumstances affect it.
for example, too much load on the processor. In addition, often the loss of efficiency associated with installed addons, infection with malicious files.
Anyway, you need to fix the error in order to restore the normal operation of the browser.
How to do this is our main topic of today's article, and we'll talk about this directly.
We draw your attention to the fact that the article will talk about why Internet Explorer does not work; that is, it does not want to run.
However, in some cases, the tips described in it also help with other problems associated with this browser.
We are getting down to the most important. Namely, we understand why IE does not want to run, and what to do to turn the situation in a good direction.
And for this, there are many ways, read about them below. We will analyze all the ways in turn.
Even if one or two does not work for you, do not despair, but try to do what is written in the following.
Content of the Article
If IE is frozen
Reset to default settings
Windows Update Center
We try to deactivate add-ons IE
Virus check
Reinstall
If IE is frozen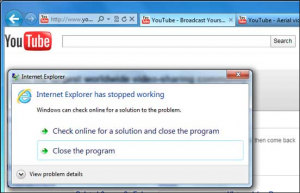 This happens very often when Internet Explorer hangs, and there is nothing critical here. If this happens, just restart your browser. Close it, and open it again.
But often he does not respond to any actions, so you need to do the following:
Launch Task Manager by pressing

Ctrl + Shift + Esc

(on Windows 7).

On the "

Application

" tab, highlight an IE by clicking on it with the right mouse button and remove it from the list by clicking the "

Remove Task

" button.

Next, we make the transition to the "

Processes

" section. We are looking for processes associated with this browser and delete them all with the "

End Process

" button.
Everything, the program is closed, it can be restarted. But before that, we recommend also restarting the entire computer so that there are no similar failures.
Reset to default settings
Universal method, because it will help get rid of the problem in different cases. It is enough just to reset the settings to the standard ones, that is, those that were originally installed before the interventions.
It is especially good to use this option in cases where the browser stopped working due to incorrect settings, configuration (including those made by the browser itself).
Getting Started :
Click on

Start

.

Go to the

control panel

.

Then you need to select "

Browser properties

."

A window has opened. In it, find the "

Advanced

" tab and click on it with the mouse to move there.

There is a "

Reset

" button. We clap on it.

Check the box "

Delete personal settings

" and click "

Reset

." I went to the process of deleting all the settings. During execution, additional windows may pop up, such as the command line. Do not worry so need.

In the end, close this window. To do this, there is a special button "

Close

."
It is worth noting this method is very effective since it does not require entering the browser itself. This is especially important when it does not start completely.
Restart the computer and start Internet Explorer to make sure it works. If the program still does not open, follow the further advice.
Windows Update Center
Installing new updates may help to restart IE. Therefore it is worth trying to upgrade Windows components.
If any updates are available for your OS, you can see it in the taskbar in the right corner. To do this, click on this icon:
In the window, click the button " Install updates."
In the new window that opens, accept the agreement and click " Finish."
We are waiting for the full installation of all components.
If automatic updates are disabled, you should check them yourself:
Go to Control Panel.

Open the "

Windows Update Center

" section.

And there click on the "

Check for Updates

" button. In case they are found, install them as described above.
We try to deactivate add-ons in IE
Some add-ons, especially if they are installed a large number, may be incompatible with each other.
This often causes a complete or partial loss of the functionality of programs for browsing the web.
To make sure of the reliability of this version of the program's inoperability, the launch of an IE with addons off is required:
Locate the Internet Explorer shortcut on your desktop. If not, transfer it there.

Click on the shortcut with the right mouse button. Then select "

Properties

" at the bottom of the list.

In the properties, you need a tab "

Shortcut

." It has the line "

Object

" and the path where the

explorer

file is stored

. exe

. Copy all this way and close the properties.

Open the command to execute. A special key combination

Win + R

is responsible for this.

In the line "execute" paste the text copied earlier. But this is not all, now after inserting, make one space and insert another:

–extoff

(with a dash). Now you can click "

OK

."

These actions will launch IE, but without the included addons. You can find out about it on the page that will automatically open. It will say: "

Internet Explorer is now working without add-ons,

" or something like that.
And if the program starts, it means that after all there is a conflict between addons. This means that they need to be disabled to remove them completely. This is done as follows:
First, open the menu by pressing the button in the form of gear in the upper corner.

Then by clicking on the link "

Configure super-settings

," open a special add-on management tool.

On the side, make a selection on "

Settings Type

" – Toolbars and Extensions.

We direct to all unnecessary extensions separately, and below we click on the "

Disable

"

button

.
Be careful with disabling system add-ons! This may entail the loss of performance of some elements of the browser.
Virus check
Every day, viruses are becoming more and more. Not an exception that some malicious code.
Which prohibits the operation of the Internet Explorer program caught you.
Therefore, you should install an antivirus (if it is not already installed) and scan the entire computer for viruses.
If they are found, immediately clean up all Trojans and malware.
Reinstall
If you have reached this point of our article, but could not restore Internet Explorer.
We recommend that you completely remove it from your computer and then install the latest version by downloading it from the official Microsoft website.
Below we provide articles on how to remove and reinstall it on your computer.
Most likely, this method should help. If not, describe your problem in more detail, and we will solve it together.