Exploring configurations before buying the parts and assembling your PC is definitely nice. Multiple options go through your head, and once you've found the exact combo, nothing can stop you. Fortunately, there are online tools that will help you during the process, and one of the most popular is Pc part picker.
How to put together a PC is one of the most frequent questions on the Web. I think we all agree that the popularity of assembled computers has declined a bit, but there is no tablet, smartphone, hybrid, portable or All-in-One capable of transmitting that feeling that is installed in us when we give shape to the system, one component at a time.
Visit dozens of sites, listen to recommendations, compare technical data, find offers, and finally buy are part of a set that despite all the changes in the market, is irreplaceable. If you have decided that it is an excellent time to build a PC and you want to establish what the base configuration will be, then you should visit the Pc part picker portal.
What is the pc part picker ?
The first program we will talk about is called pc part picker. It allows you to choose each component that simply integrates your computer, choosing from an extensive catalog. In the image below, you can see the different parts to choose: CPU model, memory, storage.
The page itself will give you a series of features and prices so you can choose for yourself and choose the alternative that interests you the most. In addition, the website has examples of computers built by the users themselves that can serve as inspiration when designing yours.
How pc part picker works ?
It all starts with a click on the "System Build" icon. From there, Pc part picker presents a true festival of selections. Processor, memory, power supply, housing, storage … I think there is nothing that escapes him. If you need more information about a particular component (including product images), just click on its name.
And as if that were not enough, Pc part picker also teaches us the price of each of the pieces, the online store that sells them, and any secondary option that helps us obtain a lower price, such as promotions, codes and coupons. In the case of Spain, Pc part picker is mainly managed with Amazon.es, but we always recommend checking each link to confirm the final price.
Another precious element in Pc part picker is compatibility control. Depending on the processor you choose, it will automatically offer in the list those motherboards that can receive it, and any unexpected conflict will be reported in the lower part.
For example, in one of my tests indicated that the housing had USB 3.0 ports on the front, but that the motherboard did not have any auxiliary connector that made use of them. Pc part picker also estimates the energy consumption of the system you are trying to assemble.
The value is based on the maximum TDP of each component, and although there is a certain margin of error, it is never wrong to have additional references. Do not wait any longer; pay a visit to Pc part picker, and start making plans.
How to mount a PC with the desired features with pc part picker ?
Some people on the Internet publish photos of computers mounted by themselves, and these people are in many cases not specialists in the field of computers because at present it is not difficult for anyone to assemble their own computer with the specifications that they want.
If you are from people who want to learn how to find hardware to assemble a PC, in this article, we will talk about a tool that will help you a lot, and I hope it will be very useful!
How to build your own computer with the desired characteristics!
Some may think that the computer industry is only limited to the giant companies and hardware manufacturers, but this idea in the current era no longer exists, in fact, there are many books now deployed in the markets that teach ordinary users how to build a computer from scratch with a set of tools and adequate hardware .
On the Internet, there are also a lot of videos and websites that explain to people how to assemble a computer, in this case, I recommend visiting one of the best websites to learn how to build a PC.
Pc part picker helps you assemble a computer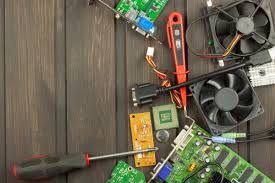 The Pc part picker Website is a complete guide for all kinds of hardware for various types of computers, which contains a large number of tips, the number of users of the Pc part picker page is very large, as many people turn to this site in order to of learning to assemble a computer.
The Pc part picker site is very simple, although there is a small drawback and that is that the site is in English, but even this would not be a problem, since the site contains technical terms, and what is not understood can be searched on Google, and there is They will get a detailed explanation.
In Pc part picker you will find many sections that will help you build your desktop PC step by step, offering you a guide on all the tools needed, the 3 most important sections are the following:
System Build section
This section gives you a list of the hardware and appropriate tools to build your own equipment, such as the screen, memory, graphics card, and other important components of the computer.
Build Guides section
This section is very important, and you have to visit before choosing the tools, as it contains many tips regarding choosing the right hardware and tools, in this section, you will have all the information about the hardware you should buy according to to the team they plan to ride.
Completed Builds section
In this section, you will find several models that some users made, where each person shares with other users, photos of the computers they have assembled, and the total cost of the project.
Each equipment varies depending on the quality of the hardware it contains and of course, you can use the hardware and tools used to assemble your own computer so that the cost will be lower.
Here is a crash course: on pc part picker guide for beginners