Microsoft Compatibility Telemetry (CompatTelRunner.exe) is a service that is responsible for collecting telemetric and diagnostic information from your machine.
Hence another question immediately arises: why?
Microsoft says that it is necessary to improve the operating system, analyze errors and fix them further. In other words, CompatTelRunner.exe is made for your own good.
What is the process of CompatTelRunner.exe
The service does not in any way affect your files, passwords, or other objects stored on your computer. It is part of system processes and is enabled by default.
By the way, CompatTelRunner.exe is used not only in Windows 10 but also Windows 8 and Windows 7 (only provided that updates KB 3075249 and KB 3080149 are installed).
If you find this process on Windows XP, then some kind of left process is trying to impersonate what it really is not (in other words,
The problem is that many users see this service as a real agent by some CIA or NSA who steals user data and violates his right to privacy. This is a topic for a separate conversation, which during the existence of Windows 10 has been raised more than once.
We will not go into the sensitive issue of privacy and consider CompatTelRunner.exe only from a practical point of view. Ethics and confidentiality will be left to the mercy of paranoids and trolls.
How CompatTelRunner.exe works
Windows users know that when a suspicious drop in system performance or an increase in the temperature/speed of the processor fan, the task manager should be checked first.
It allows you to detect a process that loads the system more than usual (processor, graphics, disk, memory or network). One of those can be Microsoft Compatibility Telemetry, aka.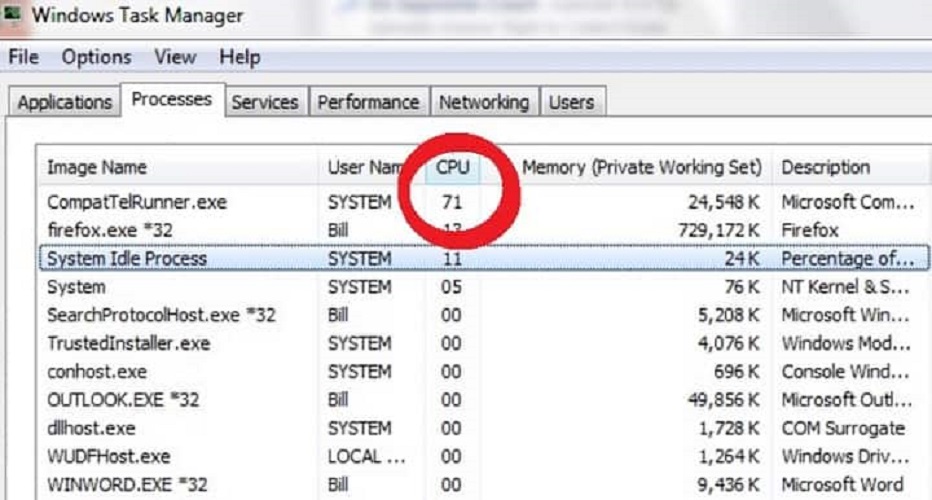 CompatTelRunner.exe. If it loads the computer for a short time, there is nothing wrong with that.
Another thing is if the process does not reduce the load on the system for a long time, which is why the performance of other applications and the comfort of the user suffer.
This article will tell you what CompatTelRunner.exe and everything related to it that you need to know.
CompatTelRunner.exe loads the disk
The second problem is that CompatTelRunner.exe, like any other Microsoft product, is imperfect, so various problems can sometimes arise with this controversial process. For example, the user is faced with excessive load on the disk or processor. Why is that? It is hard to say.
There may be a simple hangup of the service, an error in the executable file or a connection to the Microsoft server leads to incorrect operation of the service. Whatever the reason, the user is concerned about the need to get rid of abnormal loads, which may continue for an inadmissibly long time.
How to disable CompatTelRunner.exe
For your information: we do not recommend disabling this process under normal conditions, as we believe that the issue of privacy in Windows 10 is too bloated.
We believe that it is only necessary to disable telemetry services (especially radical methods) if their work specifically interferes with the normal working process.
For example, the processor or disk is constantly loaded. At the same time, we do not impose our views on anyone. If you want to disable telemetry for reasons of personal privacy – this is your own business, and we have no right to indicate to you. Our business is only to show how this is done and to warn about the possible consequences of these actions.
For reference: you must follow this instruction on behalf of the Administrator, so make sure that your account has the appropriate level of access. If there is none, you need an Administrator password.
You cannot delete CompatTelRunner.exe (probably, theoretically, this can be done) since the service is buried deep in the system's roots. Therefore an attempt to pull it out of it can lead to very disastrous consequences. Fortunately, the user has the power to stop this service and prevent it from starting.
Before disconnecting or editing anything, try restarting your computer or removing a task. You may have encountered an elemental bug that will disappear after the restart. If not, then you should try to disable Windows 10 telemetry.
For reference again: some of the above options may not be available on the Windows Insider pre-builds. They are designed to send the maximum amount of diagnostic information needed to improve and refine the system during its development. If you are not satisfied with this option, you will have to exit the Windows preliminary assessment program.
Method1
To get started, take a look at Windows Settings and disable individual privacy options. Click Win + I and select the Privacy section – General. Here you can turn off all items. Please note that the article is relevant for Windows 10 1803 April 2018 Update, in which the Parameters interface looks different, and the privacy section itself is a bit different. All the same, parameters are in previous builds of Windows 10; they can just be in other sections and a different order. Just look for similar switches in the screenshots and disable them accordingly
Then go to the Diagnostics and Reviews tab and make sure that the Diagnostic data parameter is set to Basic. Also disable Preferences Improved handwriting recognition and printing, as well as Personalized features.
Method 2
Observe the loads on the computer. If everything has returned to normal mode, then you can leave these parameters and forget about them. They in no way affect the quality of your computer or the functionality of the operating system. If attempts failed, go to more radical methods.
Click Start and type in the search service. Run the result found.
In the right part of the window that appears, go down to the bottom and find the Service for Connected Users service and telemetry there. Click the right mouse button and select Properties.
Click Stop, then click on Startup type and select Disabled from the drop-down list
Click OK, and then close the services window.
The next step is to edit the host's file. Go to C: \ Windows \ System32 \ Drivers \ Etc and find the hosts file.
Click on it with the right mouse button and select Properties.
On the Security tab, click Edit.
Another window will appear, in which you must select the current (your) user and check the boxes next to the items responsible for allowing full access and changes. After that, click OK.
Now open the hosts file in Notepad (right mouse button – Open with – Notepad) and at the very end of the file insert two lines without quotes: "127.0.0.1 vortex-win.data.microsoft.com" and "127.0.0.1 settings-win .data.microsoft.com." Save changes and close notepad.
After performing all these manipulations, the CompatTelRunner.exe process should stop running or heavily load the system. In fairness, it should also be noted that this instruction does not give you a 100% guarantee. Windows is a tricky thing, so the cause of the abnormal behavior of CompatTelRunner.exe may be something not yet known to humanity.